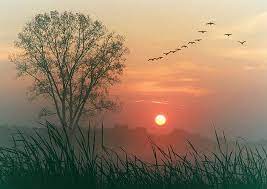 "To greet a lovely morning, we must leave the night behind." ~Tarang Sinha
I used to have these nightmares as a child. I would be chased by a monster or a ghost, or a group of ghosts. It seemed there was always something evil lurking in the dark, just waiting to pounce on me.
In these dreams, I would be running through the basement of my parent's house, or the basement of my grandparent's house (always basements!), with the monster of the night fast on my heels. Unable to get away, I would awaken suddenly, terrified, my heart pounding.
In one memorable dream, I managed to escape my grandparent's house into the dark of the night. As I continued my escape, running down the road to some imagined safety, I suddenly saw my grandmother up ahead, walking slowly. Relieved, I ran up to hug her, desperate for some feeling of comfort. But as she turned to face me, I saw that her skin was green. She wore a witch's hat and snarled at me as she reached out with her bony fingers to grab me.
So many terrors.
Many years ago, when my husband and I were first dating, I remember reading something about animal avatars. This was long before the rise of video games. In this article, the female author was describing her personality and trying to choose an animal that best matched her spirit. In the end, she picked a tiger. I thought that so mysterious and sexy .
Intrigued, asked my husband what kind of animal he thought I might be. I imagined he might see me as something equally strong and beautiful, perhaps another kind of cat. But do you know what he said?
A rabbit. He saw me as a frightened, bunny rabbit. Droopy ears, long whiskers, twitching nose and all.
Even then, even through my disappointment, I could see the fit. I've always been a frightened girl. I've never been described as fierce or courageous. I've always been a coward.
Now that you know that, it is probably predictable that these last number of years have found me cowering under the covers, anxiously awaiting news of the next, fresh catastrophe. In my case, it hasn't just been the pandemic. There's also been my mother-in-law's dementia and the uncertainty of running her business without her. There's been my mother's Parkinson's disease, and her slow and steady decline. As each of my mothers approached the end of their lives, they demanded things of me I never felt fully equipped to give.
I've been stumbling. Badly.
But then, as I'm realizing now, I've also been growing. Unbelievably, in the midst of all this fear and sorrow, I've somehow managed to complete my herbal training, mentor at a herbal clinic for a year, and also take three different yoga teacher trainings. Maybe I wasn't as frozen in place as I thought.
For me, the night appears to be lifting. The pandemic is over. Both of my mothers have quietly passed on to the next world, with my father-in-law unexpectedly following them. As I blink and look ahead, I am dazed by the light of a new morning. A morning I never dreamed could one day exist. And yet, here it is.
I am opening a yoga studio on Sunday, October 1st. I will be teaching gentle yoga for emotional issues like depression, anxiety and burnout, three conditions I am very much acquainted with. Classes will be both in-person and virtual. If you are interested, my website can be found at www.rebeccasrestfulyoga.com.
Come join me as we walk away from the anxiety and fear of the last few years, and create a new beginning. One with presence, peace, and calm. One where connection is valued over competition, and kindness matters more than hate.
"No matter how far you have run , no matter how long you have been lost, it is never too late to be found". ~ Rene Denfeld