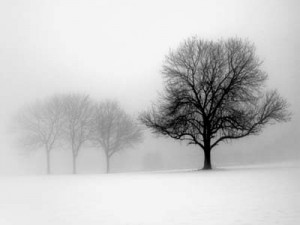 As I look out my window on this cold February day, I can't help noticing the trees.  For some reason, I've always been drawn to trees.  When I was a child, I remember thinking of the trees on our family farm as my friends.  I would gently shake the lowest branches and pretend I was shaking someone's hand.  When a warm, spring breeze would cause the branches to sway, I would imagine the tree was laughing with joy.  When climbing a tree, I would press my body against its strong trunk, ignoring the rough bristles of bark, and pretend that I was giving it a hug.
During the winter months, I often felt an even closer bond with the trees.  Once their soft, green leaves turned brown and tumbled to the ground, it felt that their soul was being revealed.  No longer hidden behind swaying bunches of green, the barren trunks told the story of their lives.  Deep black gashes from a lightning strike could now be seen.  Branches may have grown in one particular direction to avoid the worst of the winds.  If too many trees had grown too close together, you could see how they strained to avoid one another, with branches growing at odd, and sometimes tortured angles in an effort to receive sunlight in a competitive space.
I always felt a little sorry for trees which had grown in an imbalanced way, their trunks blown way to one side because they hadn't the strength to withstand strong winds.  Now that I live in the city, I can see where branches have been lopped off to prevent entanglement with power lines, forcing the trees into painfully irregular shapes.  Yet, there are still some trees which are beautifully balanced, who have survived the many storms of their lives with apparent aplomb and grace.
I believe that there is much to admire in trees, particularly as we struggle to endure the cold winter months.  Even the most damaged of trees stands patient and stalwart in the cold.  Without any leaves, it may look dead right now, but there is still life beating through its core, just waiting for the sun to warm it.  The trees do not appear to complain about the cold, as I do.  In fact, they do not appear to complain about any of the hurts inflicted upon them.  When the damaging winds of winter arrive, they simply endure.  And when spring finally arrives, their leaves are eagerly unfurled in a grand display of joy and hope, once again covering up the scars beneath.
As I look out my window at the bleak winter day, it is this strength and resilience that I seek to emulate.   Just as the trees hold their energy in the core of their trunks, so we also hold our energy in the cores of our bodies:  our kidneys.   In Chinese xanaxlowprice.com medicine, we are reminded to keep our kidneys warm and well nourished, so that we will have the resilience to endure the winter.   Primarily, we do this by avoiding cold foods and drinks.  Now is not the time for cold milkshakes or other frozen treats.  Instinctively, we reach for warm teas, and hearty stews and soups, where the nutrients have seeped into a rich and nourishing broth.  Rather than eating raw salads, we should reach more frequently for cooked vegetables, like oven roasted onions, carrots and beets.  We steam our greens, or add them to our soups, and we eat more animal products, since they can provide a large amount of nutrients in a small package.
Spices like cinnamon, cardamom and ginger, while used sparingly during the warm summer months, can now be added to any dish we eat.  Their mildly heating flavours keep our organs brimming with warmth and energy, and help us to better assimilate our food.  Chai tea is a good drink in the winter because of the warming spices it contains.  Apple cider simmered in orange peels and cinnamon bark is another good winter beverage, since the warming orange peels help with digestion, and the cinnamon has not only been shown to help lower blood sugar levels, but also both warms and circulates our blood, according to Chinese medicine.
Nuts of all types are dense nutrients that warm your body and because of this, can be eaten more regularly during the winter months.   You should still beware of their tendency to congest the liver, but if you enjoy nuts, winter is the best time to eat them since your body could use the extra warmth they provide right now.   Walnuts in particular are said to warm your kidneys, and according to Chinese medicine, are also good for your brain.  It may be the abundant omega-3 oils in walnuts which provide this benefit.  While all nuts and seeds are high in omega-3 oils, walnuts are at the top of the list, behind only flax seeds and chia seeds in their abundance of this key nutrient.
Today, the lovely Linden tree in my front yard is dusted with a soft coating of snow.  The wind is barely perceptible, and you wouldn't notice it at all except for the softly falling flakes of snow, which are not dropping downwards, but floating lazily off to the east.  The branches of my tree are held out wide beside its trunk, accepting the events of this day, as it accepts them on all others.   And as I gaze at it's graceful, yet indomitable posture, I gather my own strength and courage.  I am ready to face the next few weeks of winter with the same poise and equanimity.