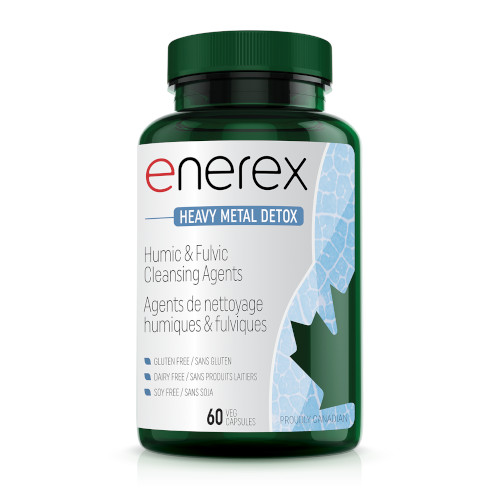 ORGANIC, VEGAN, NON-GMO, DAIRY FREE, SOY FREE, GLUTEN FREE, GMP
Description
Heavy metals and environmental toxins surround us as a fact of modern life; Enerex Heavy Metal Detox offers a daily defense, acting as a powerful natural cleansing agent.
Humic and fulvic acids, derived from the organic biomass of Hungarian peat bogs, are the main component of this formula. These compounds work to gently and safely remove heavy metals and toxins from the body, without the concerns of reabsorption associated with many heavy metal or chelation therapies. Due to their ion exchange properties, they bind to and remove heavy metals such as lead, cadmium, and mercury.
Heavy Metal Detox combines humic and fulvic acids with detoxifying minerals and raw kale to provide maximum effect for those with exposure to vehicle exhaust, smoking, industrial pollutants (construction, mining, forestry, oil & gas), chlorine (swimmers), vaccinations, dental fillings, and more.
Benefits
Defends against the toxins that are increasingly a part of everyday life
Heavy metals such as lead and mercury are associated with many health issues
Heavy Metal Detox safely facilitates the release of heavy metals and environmental toxins from the body
Contains powerful Humic and Fulvic acids combined with cleansing minerals and raw for optimal detoxification
Also a comprehensive essential and trace mineral supplement
Ideal for those with exposure to vehicle exhaust, smoking, industrial pollutants (construction, mining, forestry, oil & gas), chlorine (swimmers), vaccinations, dental fillings, and more
We use a superior source of minerals. Inorganic mineral forms, meaning from rocks, shells or manmade chemicals, are poorly absorbed because the body must first break them down through digestion before they can be absorbed. Enerex's minerals are made organic and bioavailable through chelation.
This formula provides the following minerals:
Cobalt: known to influence iron metabolism and increase the haemoglobin concentration in red blood cells
Copper: important for blood, nerves and brain function
Iron: carries oxygen to the tissues from lungs, is the most important part of hemoglobin, and helps to eliminate toxic lead from the body
Magnesium: involved in over 300 enzyme reactions in the body, and maintains the nervous system and neuromuscular activities
Manganese: helps your body process and use protein and fat in foods and creates energy in the body
Molybdenum: helps enzymes to metabolize amino acids in protein, creates healthy blood, and removes drugs and toxins from the body
Potassium: helps prevent stroke, high blood pressure, heart and kidney disorders, and manages negative responses to stress
Selenium: an antioxidant thought to be protective against the effects of toxins such as arsenic, mercury and cadmium; it has a chelating effect, meaning it binds to these metals
Vanadium: needed for chemical reactions including cells' energy production, and Vanadium in the brain may reduce cholesterol from forming in blood vessels
Zinc: an antioxidant and immune booster, one of the most important minerals in your body, playing many roles
Directions
Adults: Take 1 capsule once or twice per day or as directed by a health care practitioner. Take a few hours before or after pharmaceutical medications, take with food.
Tamper Resistant inner seal, do not use if broken. Store in a cool dry place. Keep out of reach of children. Enerex uses PETE plastic containers, a thermoplastic polymer resin. PETE plastic provides a superior moisture and oxygen barrier compared to the more common HDPE plastic that most vitamin manufacturers use.
Caution
Consult a health care practitioner if you develop GI disturbances, or prior to use if you are pregnant or breastfeeding, have a liver disorder, or history of non melanoma skin cancer.
This product is not intended for the treatment of heavy metal poisoning.
Resources
Click here to watch a short video about the health benefits of Heavy Metal Detox
Health Canada
NPN 80042562
60 Vegetarian Capsules per Bottle
Enerex Botanicals Ltd
Made in Canada
Full List of Ingredients
Medicinal Ingredients
Humic Acid (from 75mg Ancient Peat) 37.5mg
Organic Raw Kale* (Brassica Oleracea) Leaf 116.5mg
Potassium (Citrate) 37mg
Magnesium (Sulfate) 20mg
Iron (Sulfate) 14mg
Zinc (Sulfate) 10 mg
Manganese (Sulfate) 3mg
Copper (II Sulfate) 2mg
Molybdenum (Citrate) 175mcg
Selenium (Sodium Selenite) 125mcg
Vanadium (Citrate) 91mcg
Cobalt (Cyanocobalamin) 22mcg
Non-Medicinal Ingredients
Fulvic Acid (from 75mg Ancient Peat)
Microcrystalline Cellulose
Silicon Dioxide
Vegetable Magnesium Stearate
Vegetarian Cellulose-Complex Capsule
*Certified Organic by QAI (Quality Assurance International).
Note
Ingredients are subject to change at the manufacturer's discretion. For the most complete and up to date list of ingredients, refer to product packaging.