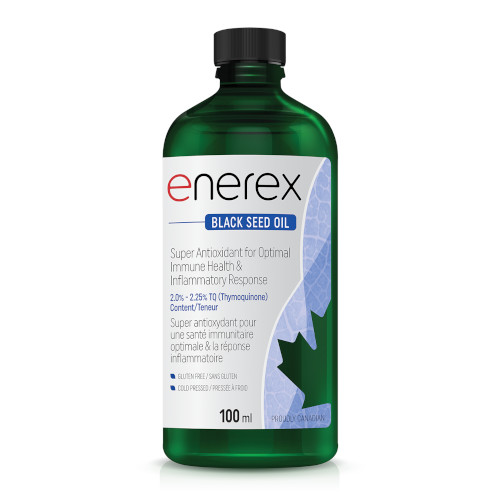 ORGANIC, COLD PRESSED, VEGAN, NON-GMO, DAIRY FREE, GLUTEN FREE, GMP
Description
BLACK SEED OIL with Vitamin E offers health-maintaining antioxidants. BLACK SEED OIL is very high in good fats: with 50% Linoleic acid (omega 6 essential fatty acid), 25% Oleic acid (olive oil's health-giving omega 9). Although it was used as far back as 5000 years ago, today we know that BLACK SEED OIL contains compounds including beta-sitosterol, crystalline nigellone, and thymoquinone.
Black Seed is fairly new to mainstream natural health, but it isn't new to herbal remedies and herbal pharmacopoeias. According to history, it was used by Egyptian pharaohs, and has been widely used in Ayurvedic medicine. Today, science shows the oil's compounds can be beneficial for various conditions.
Since 1959, Black Seed (Nigella sativa) has been researched in over 200 clinical studies worldwide. Six medical patents have been granted for Black Seed for various conditions.
Enerex BLACK SEED OIL from the Mediterranean is certified organic, first cold-pressed pure oil for maximum quality, and has a delightful "nutty" flavour. It offers essential fatty acid (meaning fat that is vital to our health but cannot be made by the body, so must be consumed from foods). It has added Vitamin E, naturally occurring mixed tocopherols that are known to be super-antioxidants!
Black Seed contains over 100 active chemical compounds. The three most studied ingredients are: crystalline nigellone, thymoquinone (2.0%-2.5%), and beta sitosterol.
Black Seeds are used in Middle Eastern, Mediterranean and Indian cooking, and have a nutty flavour. Black Seed/Black Cumin Seed is not related to the spice cumin. Black Seed Nigella sativa is a part of the buttercup plant family. Black Cumin is sold as "black seed" or "black caraway," but for therapeutic value, only Nigella sativa is true Black Seed. Nigella sativa (Black Seed) has not been shown to have any known negative side effects.
Benefits
Internal
Thymoquinone (THQ) works to modulate immune function creating balanced immunity. Antioxidant content is also beneficial for asthma and allergies. Black seed oil also supports better digestion by relieving digestive distress including bloating, gas, and heartburn.
Vitamin E is a potent antioxidant containing an optimal blend of tocopherols and tocotrienols. Known to protect healthy cells as an outstanding cardiovascular health agent.
External
High antioxidant content in combination with EFA's nourish and repair. Beneficial for a number of inflammatory skin conditions including acne, eczema, dermatitis, psoriasis, rosacea, and thrush from candida overgrowth. Natural vitamin A (retinol) speeds up healing, and hydrates the top two layers of skin, and may help fade hyperpigmentation.
Directions
Adults:Take ½ teaspoon (2g = 2.5mL) once daily with food, diluted in water or juice, or as directed by a health care practitioner.
External Use: May be applied topically to skin and hair. You can add it to your facial oil cleansing routine. Pour a small amount into your hand and massage it into the skin on your face for at least a minute. Then soak a washcloth with hot water and place it over your face to remove all the impurities you released.
Tamper Resistant inner seal, do not use if broken. Store in a cool, dry place. Keep out of reach of children.
Caution
Internal
Consult a health care practitioner prior to use if you have a known immune disorder, or for use beyond 8 weeks. May cause gastrointestinal upset. Do not use if pregnant, breastfeeding, or if you are trying to conceive.
External
Always do a patch test first. Discontinue use if redness, rash, itchiness or swelling occurs.
Resources
Click here to watch a short video about the health benefits of black seed oil.
Health Canada
NPN 80055381
100mL and 200mL Bottle
Enerex Botanicals Ltd
Made in Canada
Full List of Ingredients
Medicinal Ingredients
Each ½ Teaspoon Contains:
Black Seed Oil (Nigella Sativa) 2000mg

50% Linoleic Acid
25% Oleic Acid

Vitamin E (Mixed Tocopherols Concentrate) 45.5mg
d-Alpha Tocopherol 25 IU, 16.75mg
d-Gamma Tocopherol, 20.50mg
d-Delta Tocopherol, 7.65mg
Non-Medicinal Ingredients
Note
Ingredients are subject to change at the manufacturer's discretion. For the most complete and up to date list of ingredients, refer to product packaging.