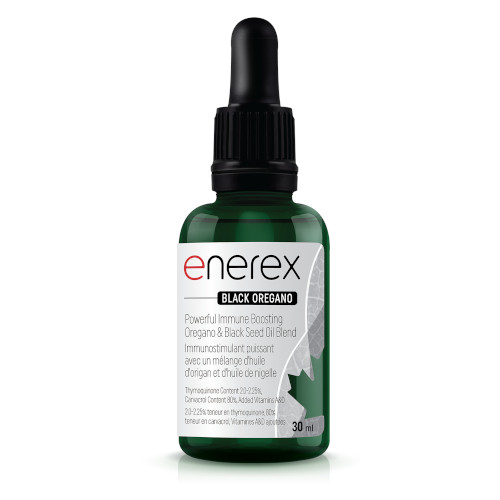 ORGANIC, COLD PRESSED, VEGAN, NON-GMO, DAIRY FREE, SOY FREE, GLUTEN FREE, GMP
Decription
Enerex Black Oregano offers intense natural immune support by blending certified organic Black Seed Oil (60%) and Oregano Oil (40%) with booster vitamins A and D. Black Seed is a powerful immune enhancer, antioxidant, antibacterial and antiviral oil. Black Seed's unique ingredients (crystalline nigellone and thymoquinone) function synergistically with the Mediterranean Oregano Oil's active components (carvacrol and thymol).Black Seed Oil has a long history of medicinal and culinary use for calming upset stomachs, diarrhea, coughs, fever, as well as a health and beauty aid. Oil of Oregano is known for its antibacterial, antiviral, anti-fungal and antioxidant properties. It is especially beneficial for respiratory ailments.Together, this innovative blend provides a one-two punch to knock out invading viruses, bacteria, and oxidative molecules.
Black Seed Oil was used by the world's first physicians but, like Oregano Oil, has also been researched by modern science. In addition to Black Seed Oil's essential fatty acids, this blend offers an appealing "nutty" flavour that mellows the distinct Oregano taste.
Black Seed, also called Nigella sativa, is new to mainstream natural health, but it isn't new to herbal remedies and herbal pharmacopoeias. Black Seeds were used by Egyptian pharaohs; found in King Tutankhamen's tomb, they were used by Queen Nefertiti, and are still used in Ayurvedic medicine.
Benefits
Black Oregano
Blends two time-tested remedies to give a greater effectiveness than on their own
Beneficial for colds, flus, allergies, sinusitis, bronchitis, coughs, infections
Oregano Oil with 80%+ carvacrol content
Certified Organic Oregano Oil and Black Seed Oil
Vitamins A & D to boost immune function and response
40% pure oregano oil vs competitors' 20-25% oregano oil content
Enerex's Black Seed Oil has the highest Thymoquinone content in the market at 45mg/dose
Thymoquinone has been extensively studied for its anti-carcinogenic properties
Unique compounds found only in Black Seed Oil that support the immune system
Cold-pressed-1st extraction better retains the oils' essential properties and is solvent free
Vitamin A
Strengthens the immune system
Strong antioxidant
Strengthens vision & skin tone
Vitamin D
Strengthens the immune system
Needed for Bone Formation
Regulates insulin production
Supports lung & cardio functions
Directions
Adults and Adolescents 14-18 years old: Take up to 3 drops 3 times daily with meals, diluted in water or juice, or as directed by a health care practitioner.
Children 4-8 years old and Adolescents 9-13 years old: Take 1 drop up to 3 times daily with meals, diluted in water or juice, or as directed by a health care practitioner.
Store in a cool dry place. Keep out of reach of children.
Caution
May cause allergic reactions in individuals sensitive to the Lamiaceae family (Basil, Hyssop, Lavender, Mint, Sage). Consult a health care practitioner prior to use if you are currently taking Lithium. Do not use if pregnant or breastfeeding.
Health Canada
NPN 80046969
30mL Bottle
Enerex Botanicals Ltd
Made in Canada
Full List of Ingredients
Medicinal Ingredients
Each Drop Contains:
Vitamin A (Palmitate) 33.3IU, 10mcg RAE
Vitamin D3 (Cholecalciferol) 50IU, 1.25mcg
Non-Medicinal Ingredients
Blend of 40% Certified Organic Cold Pressed Solvent-Free Steam Distilled Wildcrafted Mediterranean Oregano Oil (Origanum Vulgare, min. 80% Carvacrol Leaf )
60% Certified Organic Cold Pressed Solvent-Free Cold Pressed Mediterranean Black Seed Oil (Nigella Sativa Seed)
Note
Ingredients are subject to change at the manufacturer's discretion. For the most complete and up to date list of ingredients, refer to product packaging.