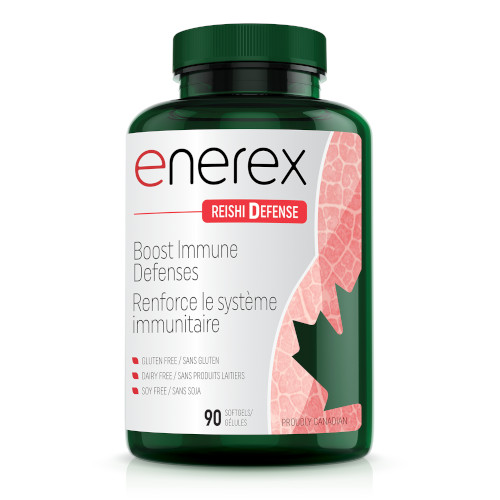 ORGANIC ,NON-GMO, DAIRY FREE, SOY FREE, GLUTEN FREE, SUGAR FREE, GMP
Description
Boosting immunity and reducing stress at the same time This potent blend of immune enhancing ingredients gives your immune system the boost it needs when challenged by harmful invaders. Using the Reishi mushroom for its cornerstone, this formula combines the key ingredients of Vitamin D, Vitamin C, and Citrus Bioflavonoids proven to help stimulate the activity and defensive mechanisms of our immune cells to combat invading organisms. The Reishi mushroom contains beta-glucans that stimulate production of T-cells, the frontline soldiers of the immune system.
Ganoderma lucidum – rich in beta-glucans to boost immune function, Reishi supports liver functions and is protective of liver cells, while also a good adaptogen especially for adrenal stress
Vitamin D helps with the mobilization of immune cells
Vitamin C is important for the absorption of Reishi's active components, a potent antioxidant and supports healthy immune function and response
Citrus Bioflavonoids – supports circulation and assists Vitamin C, helps with inflammation and allergies
Processing: high quality supplements require over 200 pounds of fresh mushrooms per 1 pound of dehydrated product; mushrooms must only be low-temperature dried before milling. Enerex Reishi Defense uses only top quality whole plant Reishi Mushroom at a ratio of 50:1, 15% Polysaccharides, 2500 mg DHE for its increased benefits
Benefits
Strengthens the immune system: supports white blood cells to stop invading viruses/bacteria & diseased cells from replicating
Calms anxiety & helps decrease effects of stress (which aids immune function)
Supports liver function & protects liver cells = vital for detoxification
Reduces insomnia & increases energy
Promotes a healthy brain, increases memory & concentration
Supports heart & vascular system
Offers anti-aging benefits with antioxidants
Reduces muscle tension & pain
Mushroom nutrients include protein, fiber, vitamin B & calcium Vitamin C well-documented to help prevent & speed recovery from cold/flu; reduces risks of severe flu symptoms when under physical/ emotional stress
Vitamin C protects cells from free radical damage, lowers cancer risks, speeds healing
Citrus Bioflavonoids hesperidin, rutin & quercitin offer protection for heart, circulatory health, strengthen immune system, protect liver
Bioflavonoids shown to reduce infections & allergies, fight viruses & prevent some chronic conditions
Bioflavonoids prevent excessive inflammation throughout the body & protect cells from oxidative damage (free radicals)
Directions
Adults:Take 1 softgel daily with food or as directed by a health care practitioner.
Tamper Resistant inner seal, do not use if broken. Store in a cool dry place. Keep out of reach of children. Enerex uses PETE plastic containers, a thermoplastic polymer resin. PETE plastic provides a superior moisture and oxygen barrier compared to the more common HDPE plastic that most vitamin manufacturers use.
Caution
Consult a healthcare practitioner prior to use if you are taking any prescription medication, blood thinners, or if you are pregnant or breastfeeding.
Health Canada
NPN 80029026
90 Softgels per Bottle
Enerex Botanicals Ltd
Made in Canada
Full List of Ingredients
Medicinal Ingredients
Each Softgel Contains:
Ganoderma Lucidum 50mg

(Reishi Mushroom 50:1, 15% Polysaccharides, 2500mg DHE*) Whole Plant

Vitamin D3 (Cholecalciferol) 1000 IU, 25mcg
Vitamin C (Ascorbic Acid) 200mg
Citrus Bioflavonoids (Citrus aurantium) Lemon Fruit 200mg
*Dried Herb Equivalent
Non-Medicinal Ingredients
Organic Olive Oil
Unbleached Lecithin (Non-GMO)
Beeswax
Softgel:
Note
Ingredients are subject to change at the manufacturer's discretion. For the most complete and up to date list of ingredients, refer to product packaging.