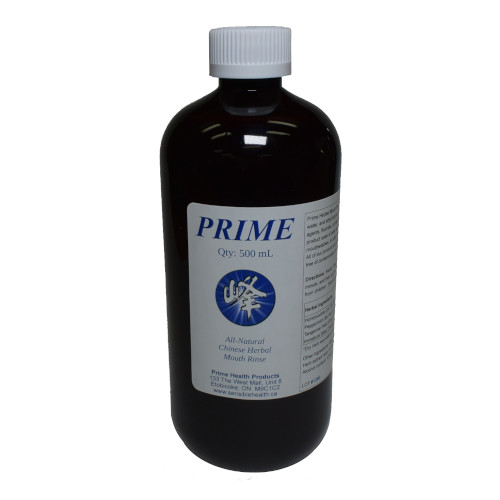 Prime Herbal Mouth Rinse (CAD$)
Description
Prime Herbal Mouth Rinse contains only herbal extracts, water and ethyl alcohol. No artificial dyes, flavouring agents, fluoride, nor preservatives were used. This product uses a lower alcohol concentration than most mouthwashes, in order to create a gentler rinsing action. All of our products are lab-tested to ensure they are free of contamination from heavy metals and pesticides.
Directions
Swish 1 tbsp (15mL) of Prime Herbal Mouth Rinse in mouth for 1 minute and then spit out. Do not swallow. Keep away from children. Store away from direct sunlight and heat.
500 mL (16.9 fl oz) Bottle
Prime Health Products
Made in Canada
Full List of Ingredients
Herbal Ingredients
Honeysuckle Flower (Jin Yin Hua) 2:1 Extract, 88mg
Peppermint (Bo He) 5:1 Extract, 74mg
Qing Pi (Tangerine Peel) 5:1 Extract, 37mg
Bitter Orange (Zhi Shi) 3:1 Extract, 37mg
Non-Herbal Ingredients
Distilled Water
Ethyl Alcohol (12% volume)
Note
Ingredients are subject to change at the manufacturer's discretion. For the most complete and up to date list of ingredients, refer to product packaging.