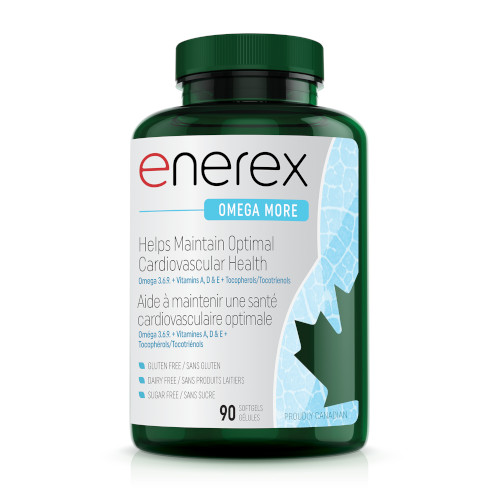 NON-GMO, DAIRY FREE, GLUTEN FREE, SUGAR FREE, GMP
Description
Going beyond good fats, Enerex Omega More combines higher quality Omega 3 fatty acids (from wild Anchovy, Mackerel & Sardine), and Omega 6 fatty acids (from Evening Primrose & Borage oils). Omega 6 oils offer 16% of their fatty acids as important gamma linolenic acid (GLA), and fish oils are in a 2:1 EPA/DHA ratio containing over 30% EPA, DHA & DPA. Boosted with antioxidant vitamins E, A & D.
Vitamin E neutralizes free radicals & protects EFAs from oxidation (makes delicate oils stable, preventing rancidity)
Higher potency practitioner-grade that's safe for everyone plus a broader spectrum of nutrients
Antioxidants: full spectrum Vitamin E (containing all four tocopherols), daily dose Vitamin D3 + Vitamin A
Pristine wild Arctic fish: lower on food chain, free of contaminants, heavy metals (third-party tested, stringent government standards) molecular distillation; cold-pressed immediately after harvesting
Omega 6 benefits to offset unhealthy (over- processed, hydrogenated) vegetable oils in diet
Non GMO Evening Primrose & Borage Seed oil well-known to beautify skin "from inside out"; youth-enhancing & reduce rashes
Combined ingredients provide ideal ratio of GLA/ EPA/DHA found in human tissue
Benefits
People in Canada & US take Omega supplements more than multivitamins (according to Consumerlab. com research). However, we still do not get enough EPA, DHA & DPA from oily fish, and get too much unhealthful Omega 6 (refined, hydrogenated, reducing benefits of unadulterated GLA). A W.H.O. report states most people ingest a 20:1 (omega 6 to 3) ratio but the ideal for optimal health is 2:1 to 4:1. Taking Omega supplements is recommended by many health & medical organizations including American Heart Association & Mayo Clinic to counteract these deficits.
Vitamin A, a maximum daily dose of Vitamin D3 (Cholecalciferol), and the full range of Vitamin E (its four Tocopherols & four Tocotrienols) are included because they help the body to use EFAs, increase oils' shelf life, and add antioxidants to the formula.
Fish's DHA & EPA contribute to enhanced moods & reduced anxiety/depression; aids children's attention, learning & behaviour
Omega 3 & 6 reduce inflammation; help prevent & relieve pain from arthritis, prostatitis, cystitis
EPA & DHA linked to lower risk of heart disease; reduce high triglycerides, lower blood pressure; protect against tears in arteries, blood clots & strokes
Cholesterol management: help balance cholesterol, increase HDL
Improves memory recall, concentration & supports healthy aging brain; high levels of DHA lower Alzheimer's risk
Omega 3 & 6 increase immune function, nervous system, eye health & stabilize blood sugar
Over 30 human studies report Evening Primrose benefits for eczema/dermatitis due to 25% LA & GLA
Borage oil GLA: antibacterial, anti-inflammatory, heart protector & skin rejuvenator
Vitamin A necessary for health of cells, vision, bone development
Vitamins A, D & E crucial for immune response; activate lymphocyte & T-helper cells
Vitamin D3: "membrane antioxidant", cancer prevention, bone strength, helps cells communicate with each other
Directions
Adult:Take 1 softgel 3 times daily with food or as directed by a health care practitioner.
Tamper Resistant inner seal, do not use if broken. Store in a cool dry place. Keep out of reach of children. Enerex uses PETE plastic containers, a thermoplastic polymer resin. PETE plastic provides a superior moisture and oxygen barrier compared to the more common HDPE plastic that most vitamin manufacturers use.
Caution
Consult a health care practitioner prior to use if you are pregnant or breastfeeding, have cancer, or for use beyond 6 weeks.
Health Canada
NPN 80036940
90 Softgels per Bottle
Enerex Botanicals Ltd
Made in Canada
Full List of Ingredients
Medicinal Ingredients
Each Softgel Contains:
Fish Oil (Anchovy, Mackerel, Sardine Body Oil) 600mg

EPA (Eiocosapentaenoic Acid) 240mg
DHA (Docosahexaenoic Acid) 120mg
DPA (Docosapentaenoic Acid) 25.5mg

Evening Primrose Oil (Oenothera Biennis Seed, Non-GMO) 275mg
Borage Oil (Borago Officinalis Seed, Non-GMO) 275mg
Together providing:

GLA (Gamma Linolenic Acid) 88mg
LA (Linoleic Acid) 308mg
OA (Oleic Acid) 82mg

Mixed Tocopherol/Tocotrienol Concentrate (Soybean Origin) 46.6mg/46.02mg

d- Alpha Tocopherol/Tocotrienol 17.04 mg/4.18mg
d- Gamma Tocopherol/Tocotrienol 21.36 mg/24.03mg
d- Delta Tocopherol/Tocotrienol 7.88 mg/16.09mg
d- Beta Tocopherol/Tocotrienol 0.38 mg/1.72mg

Vitamin A (Palmitate) 3,000 IU 900mcg RAE
Vitamin D3 (Cholecalciferol) 333 IU 8.33mcg
Non-Medicinal Ingredients
Gelatin
Glycerin
Water (Softgel)
Note
Ingredients are subject to change at the manufacturer's discretion. For the most complete and up to date list of ingredients, refer to product packaging.