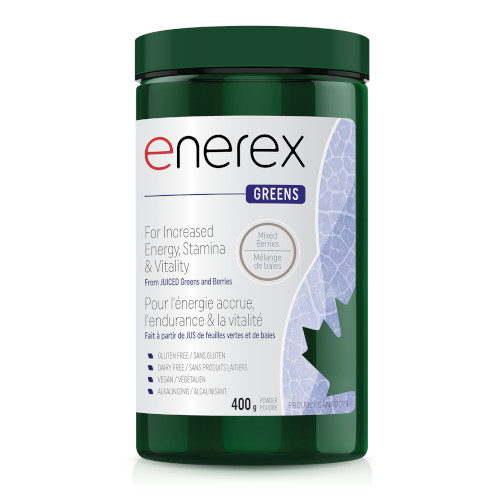 Greens Mixed Berries (CAD$)
ORGANIC, PROBIOTIC, VEGAN, NON-GMO, ALKALIZING, DAIRY FREE, GLUTEN FREE, GMP
Decription
Bursting with 9 berry superfruits, this blend of six raw superfoods is a quick and convenient way to get your daily boost. Packed with vitamins, minerals, antioxidants, enzymes, phytonutrients and probiotics, this nutrient dense and alkalinizing mixture may help increase your vitality, rev up your immune system, improve your digestion, and sharpen your brain, all with a fresh, natural fruity flavour.
Enerex GREENS MIXED BERRIES offers nutrient-dense whole plant foods quick & easy to add to smoothies, dips & dressings. GREENS MIXED BERRIES is loaded with synergistic superfoods that increase energy & performance, and help keep kids' & elderly immune systems strong. Featuring powdered raw juices of organic grasses, enzyme & protein-rich sprouts, detoxifying vegetables, high-antioxidant fruits, and dairy-free shelf-stable probiotics.
Benefits
Increases energy and stamina: good for performance, pre & post workout
Increases body alkalinity/reduces body acidity to restore healthy pH balance = lessens disease risks
Helps reduce inflammation: pain, stiffness/ swelling
Improves digestion: easily assimilated so the body can better use nutrients
Helps with bowel elimination and detoxification
Brain booster: improves mental clarity & alertness
Very high in chlorophyll: vital for health & vitality, potent antioxidant with chemical structure almost identical to heme
Has one of the highest ORAC values at 3300
Rich in amino acids
All organic grass juice powders sourced from organic United States farms
Contains probiotics
Cold pressed, no heat involved in extractions
Contains Kamut, an ancient & highly nutritious grass juice powder
Highest ORAC values in the market
Sweetened with Luo Han Guo which is good for diabetics, and zero glycemic index
Directions
Blend or shake 2 teaspoons (10g) of GMB with 250mL of liquid. Best if consumed immediately. Also add to smoothies or any food preparations (avoid high heat).
Tamper Resistant inner seal, do not use if broken. Store in a cool dry place. Keep out of reach of children. Enerex uses PETE plastic containers, a thermoplastic polymer resin. PETE plastic provides a superior moisture and oxygen barrier compared to the more common HDPE plastic that most vitamin manufacturers use.
Caution
None
Resources
Click here to watch a short video about Greens - Mixed Berries.
400g Powder per Bottle
Enerex Botanicals Ltd
Made in Canada
Full List of Ingredients
2 Teaspoons (10g) Contains:
Green Superfoods Blend 4160mg

Certified Organic Spirulina 2056mg
Certified Organic Alfalfa Leaf Juice Powder 489mg
Certified Organic Kamut® Grass Juice Powder 489mg
Certified Organic Barley Grass Juice Powder 489mg
Certified Organic Oat Grass Juice Powder 245mg
Certified Organic Millet Sprouts 245mg
Certified Organic Kelp 147mg

Soya Lecithin Powder (Non GMO) 2371mg
High Pectin Apple Fibre 1174mg
Berry Superfoods Blend 1032mg

Aronia Berry Concentrate (4:1) 396mg
Raspberry Natural Flavour 292mg
Acerola Berry Concentrate (17% Vitamin C) 167mg
Certified Organic Black Currant 39mg
Certified Organic Cranberry 39mg
Certified Organic Raspberry 39mg
Certified Organic Açai Berry 20mg
Certified Organic Strawberry 20mg
Certified Organic Blueberry 10mg
Certified Organic Goji Berry (Wolfberry) 10mg

Brown Rice Bran 489mg
Red Beet Juice Powder 489mg
PRE & PRO BIOTIKA Probiotics 245mg
Luo Han Guo Concentrate (Siraitia Grosvenorii, Fruit, Sweetener)† 40mg
Enerex GREENS - Gluten Free - Mixed Berries is 3rd party tested to verify less than 20 parts per million of gluten.
*Verified by QAI (Quality Assurance International).
†Luo Han Guo (Monk Fruit) has zero calories and zero glycemic impact, making it safe for diabetics and hypoglycemics to use.
Kamut® is a registered trademark of Kamut International Inc.
Note
Ingredients are subject to change at the manufacturer's discretion. For the most complete and up to date list of ingredients, refer to product packaging.