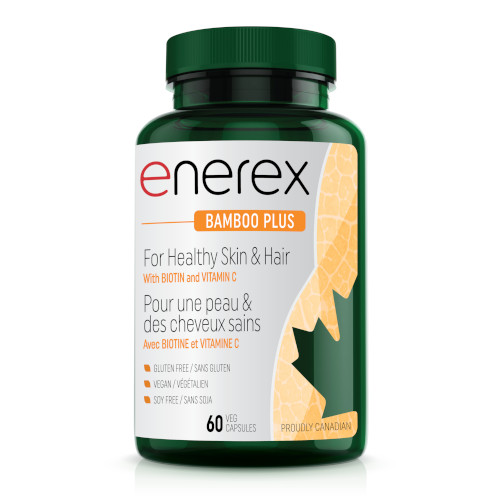 VEGAN, SOY FREE, GLUTEN FREE, GMP
Description
Guilt-free gorgeous in a skin-hair-nail multivitamin. Pamper, indulge and satisfy skin and hair from the inside out to make them healthy, smooth & strong with the beauty basics your body craves. Silica for skin elasticity, diminishing dryness & beautifying hair; Vitamin C the anti-aging antioxidant; Calcium for cell turnover; and Biotin (Vitamin B7) to strengthen hair & nails.
Your skin is a walking billboard. When your bodyís systems are working effortlessly, it makes you vital, healthy and youthful so your skin, which is your largest organ, reflects that on the outside. Commit to creating the healthiest environment for skin & hair to thrive.
What are the right vitamins & minerals to nourish, rejuvenate and beautify your skin & hair? Bamboo Silica (converted to the mineral Silicon), Calcium Citrate (the most easily absorbed calcium), Vitamin C (as Ascorbic Acid, the form that directly affects skin), and Biotin (Vitamin B7) go deep within to beautify skin on the surface. Recommended for all skin and hair types.
Benefits
Bamboo Silica
Silicon makes up a major part of collagen stores that promote skin elasticity & smoothness, silky, shiny hair
Necessary for bone growth & repair, vital to keep facial bone structure youthful and lessen sagging
Lack of mineral directly linked to bodyís aging process which includes formation of wrinkles, loose skin, fine lines since its critical for repair and cell renewal
Anti-inflammatory = used in treatments for acne & inflamed skin (eczema, psoriasis)
Creates bonds between protein molecules (Glycosaminoglycans) responsible for skinís ability to retain water, prevent moisture loss
Reduces melanin production that causes pigmentation/red spots
Antimicrobial and antibiotic so protects against bacterial infections/acne
Strengthens hair structure, reducing brittle, breakable hair & resulting in added shine
Strengthens skinís protective barrier from environmental pollutants
Anti-irritant, soothing & calming benefits to dry, scaly skin, especially sensitive skin
Bamboo has 10X silica than other sources
Vitamin C
Promotes collagen production: keeps skin firm, diminishing fine lines & dryness, improves elasticity
Increases collagen in hair as an important part of its structure & prevents hair loss
Limits inflammatory conditions: eczema, dermatitis rashes & psoriasis
Reduces melanin production, protecting against UV-induced photodamage, dark spots & hyperpigmentation
Powerful antioxidant that slows premature-ageing by reducing skin-damaging free radicals
Reduces oxidative stress in follicles that can block hair growth & cause dry, dullness
Calcium
Vital for cell turnover Ė shedding dead cells & replacing with new cells: dullness brightens
Deficiency in the epidermis = skin vulnerable to damage, appearing thin, fragile, dry
Helps maintain antimicrobial & permeability barriers so invaders & toxins canít enter skin ó and therefore the body
Protects keratinocytes (90% of outer skin cells), reducing inflammatory diseases: dermatitis & psoriasis
Sustains facial bones & muscles; reduces sagging, deep lines (shrunken facial structure from age)
Helps produce sebum coating that keeps in skinís natural moisture
Plays major role in producing antioxidants that prevent DNA damage to collagen & elastin and protect skin from environment
Aids skin wound healing
May help prevent skin cancer (according to National Cancer Research Institute)
Important for hair growth; deficiency can cause hair loss
Biotin
Also known as vitamin H; H standing for "Haar und Haut," German for "hair and skin" because deficiency manifests as dry, scaly skin, rashes, acne, hair loss & brittle nails
Improves psoriasis. The link may be due to its effect on fat metabolism since fatty acids are linked to robust, healthy skin cells
Plays a role in hormone function, which affects skin health.
Healthy hair: may increase growth in women with thinning hair
Nail strengthener: it may increase nail thickness and reduce splitting
Has many body functions that can play out on the surface (skin/hair) if not enough is eaten in diet: It is vital for metabolism, for digestion to convert food into energy, healthy nervous system, brain function & immune system"
Directions
Adult Dosage: Take 1 capsule 2 times daily or as directed by a health care practitioner. Take with food, a few hours before or after taking other medications or natural health products.
Store in a cool, dry place. Keep out of reach of children.
Caution
None
Health Canada
NPN 80107421
60 Vegetarian Capsules per Bottle
Enerex Botanicals Ltd
Made in Canada
Full List of Ingredients
Medicinal Ingredients
Calcium Citrate (40mg Elemental Calcium) 200mg
Vitamin C (Ascorbic Acid) 200mg
Bamboo Extract (Bambusa vulgaris, 70% Silica, Stems) 100mg
Biotin 50mg
Non-Medicinal Ingredients
Hypromellose (Vegetarian Cellulose-Complex Capsule)
Note
Ingredients are subject to change at the manufacturer's discretion. For the most complete and up to date list of ingredients, refer to product packaging.